No to hunting

Non à la chasse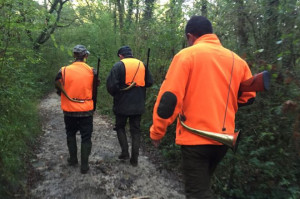 English
How to take your land out of hunting in France
If you live in France you will be aware of the "chasse".
These are the hunters who disrupt the countryside, depending on the poor prey, from August to the end of March.
The shooting is carried out nearly every day including Sundays.
If you live in an area of a number of active hunts and individuals you will certainly not get a day of peace from September to February.
In France the law is weighted in favour of the hunt. There is a bias from the politicians to the hunters who in their very nature are bullies and want to show their power over lesser species such as politicians.
Remember that 1 in 10 hunting accidents involves an innocent bystander (you now know why they wear orange )
Here is the official document from L.P.O. giving the details
Ban hunting on your property: the new procedure to follow
From now on and everywhere in France, you can withdraw your property from hunting areas.The Verdeille law of 1964 long deprived the owners of their freedom by authorizing against their will hunting on their land. Today, all owners, whatever their department, have the right to withdraw their property from an Association (Inter) Communale de Chasse Agréée (ACCA and AICA) in the name of personal convictions opposed to the practice. In other words, you have the option of removing your land from hunting and making it a haven for wildlife.
How to proceed ?
A new procedure has been put in place to be able to ban hunting on its land. In accordance with decree n ° 2019-1432 of 23 December 2019, you must make the request by registered mail with Acknowledgment of receipt (AR) no longer to the prefecture, but directly to the president of the Departmental Federation of hunters. After validation, your request will be sent to the president of the ACCA, who will have 2 months to give his opinion, then the president of the Departmental Federation of hunters will have 4 months to decide.The LPO provides you with a standard letter requesting withdrawal from the ACCA. Be sure to enter your contact details and the plot numbers concerned by the withdrawal (cadastre in town hall). Once the request has been made, you will be required to put at least one sign saying "No hunting" in the field.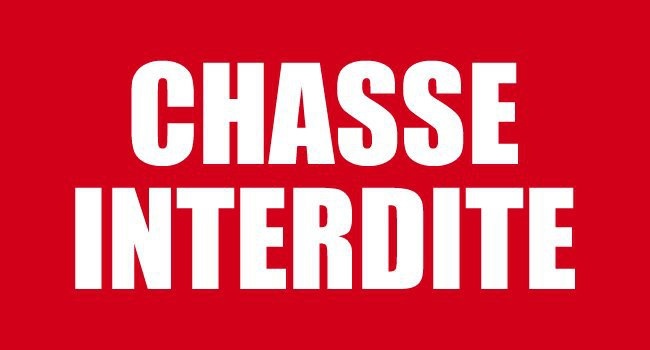 Create your LPO Refuge
Do you want to do more to preserve biodiversity on your plots? Join the first network of ecological gardens in France by creating your LPO Refuge ! By registering, you will benefit from planning advice to invite biodiversity into your home. With 27,000 LPO refuges over more than 40,000 hectares, this network is at the heart of the green network and ecological corridors, constituting a real network on our territory.
.
LPO Posted: January 7 2020
LPO Updated: January 23, 2020
Download address and letter below French text.
——————————————————————————————————-
Français
Comment retirer sa terre de la chasse en France
Si vous habitez en France, vous serez au courant de la "chasse".
Ce sont les chasseurs qui perturbent la campagne, selon les pauvres proies, d'août à fin mars.
Le tournage a lieu presque tous les jours, y compris le dimanche.
Si vous vivez dans une zone de chasse et d'individus actifs, vous n'obtiendrez certainement pas une journée de paix de septembre à février.
En France, la loi est pondérée en faveur de la chasse. Il y a un parti pris des politiciens envers les chasseurs qui, de par leur nature, sont des intimidateurs et veulent montrer leur pouvoir sur des espèces moins importantes telles que les politiciens
N'oubliez pas qu'un accident de chasse sur 10 implique un passant innocent (vous savez maintenant pourquoi il porte de l'orange)
Voici le document officiel de L.P.O. donner les détails


Interdire la chasse sur son terrain : la nouvelle procédure à suivre
Dès maintenant et partout en France, vous pouvez retirer votre propriété des espaces de chasse.
La loi Verdeille de 1964 a longtemps privé les propriétaires de leur liberté en autorisant contre leur gré la chasse sur leurs terrains. Aujourd'hui, tous les propriétaires, quel que soit leur département, disposent du droit de retirer leur propriété d'une Association (Inter)Communale de Chasse Agréée (ACCA et AICA) au nom de convictions personnelles opposées à la pratique. En d'autres termes, vous avez la possibilité de soustraire vos terrains à la chasse et d'en faire un havre de paix pour la faune sauvage..
Comment procéder ?
Une nouvelle procédure a été mise en place pour pouvoir interdire la chasse sur son terrain. Conformément au décret n°2019-1432 du 23 décembre 2019, vous devrez formuler la demande par courrier recommandé avec Accusé de Réception (AR) non plus auprès de la préfecture, mais directement auprès du président de la Fédération départementale des chasseurs.
Après validation, votre demande sera envoyée au président de l'ACCA, qui aura 2 mois pour donner son avis, puis le président de la Fédération départementale des chasseurs disposera de4 mois pour statuer.
La LPO met à votre disposition un courrier type de demande de retrait de l'ACCA. Veillez à inscrire vos coordonnées et les numéros de parcelles concernées par le retrait (cadastre en mairie). Une fois la demande actée, vous aurez l'obligation de poser au minimum un panneau mentionnant « Chasse interdite » sur le terrain.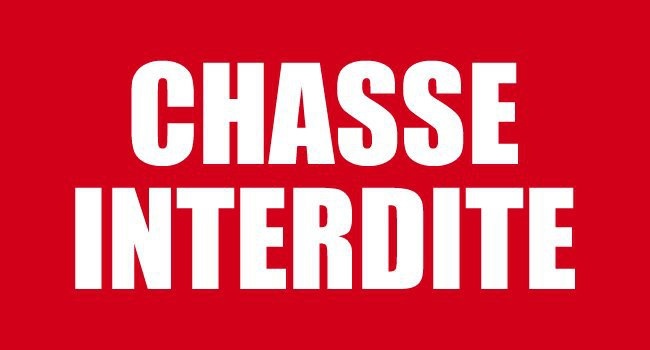 Créez votre Refuge LPO
Vous voulez faire plus pour préserver la biodiversité sur vos parcelles ? Rejoignez le premier réseau de jardins écologiques de France en créant votre Refuge LPO ! En vous inscrivant, vous bénéficierez de conseils d'aménagements pour inviter la biodiversité chez vous. Avec 27 000 Refuges LPO sur plus de 40 000 hectares, ce réseau est au cœur de la trame verte et des corridors écologique, en constituant un véritable maillage sur notre territoire.
.
LPO Publication : 7 janvier 2020
LPO Mis à jour : 23 janvier 2020
 
Please click the above to take you to a page where you can download a letter and information
where to send it to remove your land from the hunt in France.

Veuillez cliquer sur ce qui précède pour vous amener à une page où vous pouvez télécharger une lettre et des
informations

où l'envoyer pour retirer votre terrain de la chasse en France.
More information
No to the decree N ° of December 23, 2019 published in the official journal of December 26, 2019 which transfers competences of the public services of the state to corporatist structures of private law that are the hunting federations acting for their particular interests:
to remove your hunting grounds
for the management of individual hunting plans
for the management of Approved Communal Hunting Associations
This decree stems from the strict application of article 13 of Law No. 2019-773 of July 24, 2019, which transfers certain missions from the State to the departmental federations of hunters (FC) relating to the management of municipal associations of approved hunting (ACCA) and the management of individual hunting plans (PDC).
The culmination of the hunters' ambition to be judges, parties and decision-makers in our space and our common good.
Do you want to get your properties out of the hunt? You will no longer have to contact the prefect, but the federation of hunters … demands against their interests. It is the interference of a private authority with public legislation.
Transferring the instruction of a request to leave private hunting grounds from the prefect to the hunters is like transferring the instruction of a building permit from the mayor to the property developer.
It is to officially ignore the conflict of interest
It is the negation of the separation of public / private powers
It is an additional obstacle to the right of property established by the French revolution of 1789.
Public authority is in the hands of private structures.
If until then our representatives in Departmental Commissions for Hunting and Wild Fauna (CDCFS) chaired by the prefects or their representative could try to moderate the ardor of "sampling" in certain territories where individual requests are expressed, scientific studies in support communicated to the prefects, this will no longer be possible. Public authority is in the hands of private structures.
The prefects organized the management of Accredited Hunting Associations (ACCA), including the compulsory legislative reserve of 10% of the huntable territory. Now entrusted to hunting federations, they will be judge, party and controller. Where has the separation of powers gone? Public authority is in the hands of private structures.
The ambition of the hunters, who already track down 91 species including 25 in decline or on the red list, is to hunt the maximum of species, at all times in all places and without control… And gradually they will very well manage to "sanitize the nature "by releasing more and more farmed game with revolting living conditions causing genetic pollution of wild species to bend it to their pleasure.
Faced with the assumed complicity of the State, which places public authority in the hands of private structures, we are doing everything to check this dangerous progression of the power of the hunting lobby, but we must count on our mobilization. Join us. Call out to your elected officials, including your mayors.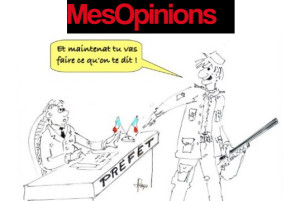 Click picture to take you to Mes Opinions
Non à l'arrêté N° du 23 décembre 2019 paru au journal officiel du 26 décembre 2019 qui transfère des compétences des services publics de l'état aux structures corporatistes de droit privé que sont les fédérations de chasse agissant pour leurs intérêts particuliers :
pour retirer vos terrains de la chasse
pour la gestion des plans de chasse individuels
pour la gestion des Associations Communales de Chasse Agréées
Ce décret découle de l'application stricte de l'article 13 de La loi n° 2019-773 du 24 juillet 2019, qui transfère certaines missions de l'Etat aux fédérations départementales des chasseurs (FC) relatives à la gestion des associations communales de chasse agréées (ACCA) et à la gestion des plans de chasse individuels (PDC).
Aboutissement de l'ambition des chasseurs pour être juges, parties et décideurs sur notre espace et notre bien commun.
Vous voulez sortir vos propriétés de la chasse ? Il faudra vous adresser non plus au préfet, mais à la fédération des chasseurs… demande contre leurs intérêts. C'est l'ingérence d'une autorité privée pour une législation publique.
Transférer du préfet aux chasseurs, l'instruction d'une demande de sortie de terrains privés de la chasse, c'est comme transférer l'instruction d'un permis de construire du maire au promoteur immobilier.
C'est faire officiellement fi du conflit d'intérêt
C'est la négation de la séparation des pouvoirs public / privé
C'est une entrave de plus au droit de propriété mis en place par la révolution française de 1789.
L'autorité publique est aux mains de structures privées.
Si jusqu'alors nos représentants en Commissions Départementales de la Chasse et de la Faune Sauvage (CDCFS) présidées par les préfets ou leur représentant pouvaient essayer de tempérer les ardeurs de « prélèvement »sur certains territoires où s'expriment les demandes individuelles, études scientifiques à l'appui communiquées aux préfets, cela ne sera plus possible. L'autorité publique est aux mains de structures privées.
Les préfets organisaient la gestion des Associations de Chasse Agréées (ACCA), dont la mise en réserve législativement obligatoire de 10% du territoire chassable. Désormais confiée aux fédérations de chasse, celles-ci seront juge, parti et contrôleur. Où donc est passée la séparation des pouvoirs ? L'autorité publique est aux mains de structures privées.
L'ambition des chasseurs, qui traquent déjà 91 espèces dont 25 en déclin ou sur liste rouge, est de chasser le maximum d'espèces, en tous temps en tous lieux et sans contrôle…Et progressivement ils vont très bien arriver à « aseptiser la nature » en lâchant de plus en plus de gibier d'élevage aux conditions de vie révoltantes engendrant une pollution génétique des espèces sauvages pour la plier à leur bon plaisir.
Devant la complicité assumée de l'Etat qui place l'autorité publique aux mains de structures privées, nous faisons tout pour enrayer cette progression dangereuse du pouvoir du lobby de la chasse mais nous devons compter sur notre mobilisation. Rejoignez-nous. Interpellez vos élus dont vos maires.